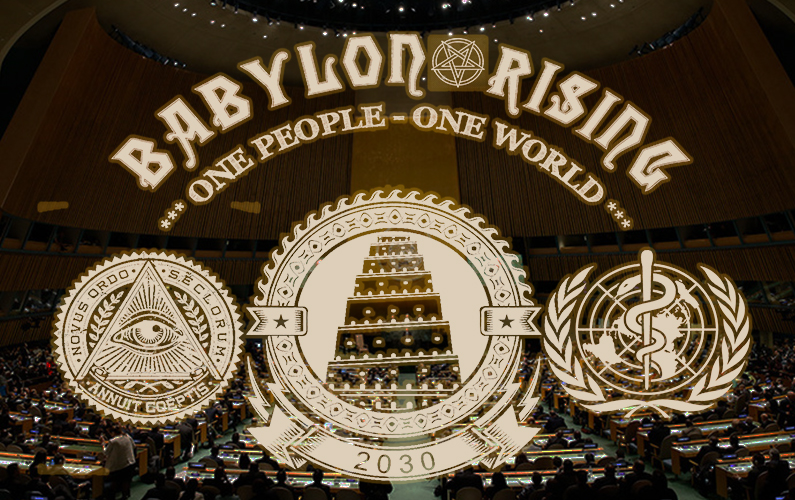 Babylon Rising – part 3 The Vaccine Agenda
Vaccines are Coming
Part 3 of 7
Disclaimer:
The author of Unleavenedbread.co.za is not a qualified doctor or a medical professional. I am also neither an activist or a protestor of any sort and will neither organise, promote or participate in any protest action (my reason for this will be explained in the final post of this series).
My interest is purely that of Biblical Prophetic interpretation. I have no earthly allegiance to any governmental powers or opposing parties/organisations.
My Kingdom affiliation is not of this world.
The information contained on this site is for your consideration and your further research. The information is intended to broaden the horizons of the reader and to expose him/her to information that is not talked about or even considered in the mainstream media. Viewpoints are not forced upon any reader. You, the reader, are trusted to discern for yourself while browsing the pages of this website, what is true and untrue.
The author of Unleavenedbread.co.za does not necessarily agree with, support, or endorse everything that is posted, or linked to on any of our pages. Viewpoints expressed in some articles posted on this site do not necessarily represent the viewpoint of the author of this website.
And have no fellowship with the unfruitful works of darkness, but rather reprove* them.
Ephesians 5:11 (KJV)
*(expose, bring to the light)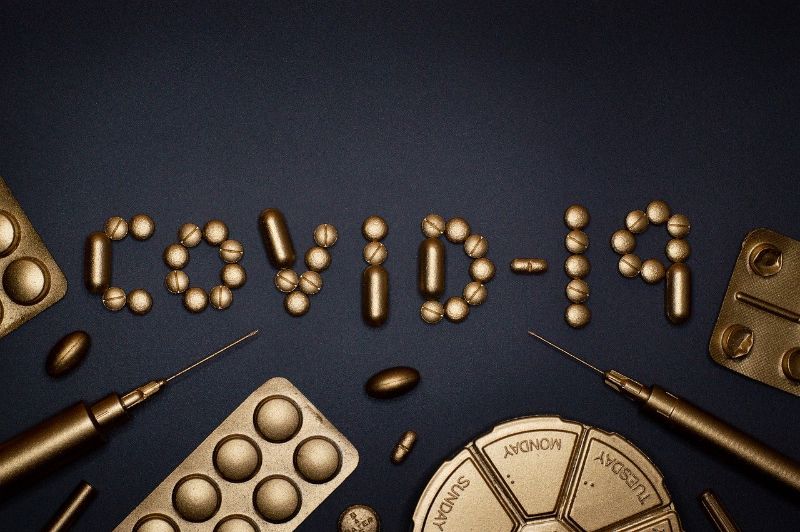 Whether you want to believe it or not, the COVID 19 hoax was designed to bring about regular vaccination of the whole global population.
If you believe that the anti-vaccine controversy is some sort of ridiculous conspiracy then visit  THE VACCINATION RACKET website and open your eyes.
Every year, just prior to the impending "flu season," the CDC and their acquiescent media pawns terrorize the American public with false claims regarding annual flu deaths. The CDC boldly asserts that 36,000 people die every year from the flu. Such scare tactics are calculated to increase flu vaccine sales. However, according to the CDC's own official records documented in National Vital Statistics Reports, only a few hundred people die from influenza (flu) on an average year. And many of these deaths occur in people with preexisting conditions, weakened immune systems, and the elderly. Annual Flu Deaths: The Big Lie By Neil Z. Miller
"The CDC has large numbers of vaccine scandals buried in their files. One of them involves a vast over-exaggeration of flu deaths in the US every year. As researcher Peter Doshi noted, years ago, the old canned figure for annual flu deaths, 36,000, was a gross exaggeration. One year, the actual number of confirmed flu deaths in America—where the flu virus was positively identified—was, wait for it: 18. Of course, the CDC uses those flu-death stats to convince Americans they must take the flu vaccine."  [2016 April] Former NBC boss asserts his grandson damaged by vaccines by Jon Rappoport
source: Flu vaccination quotes
What are Their Intentions?
Henry Kissinger in 1974 wrote in his report 'National Security Study Memorandum 200 – Implications of Worldwide Population Growth for U.S. Security and Overseas Interests' that reducing the world's population was paramount to those in power. But when it comes to how they approach this, it becomes quite nefarious. We soon realize that their ideas are not benevolent. Vaccinations are right in line with this agenda. Their approach is to reduce population gradually through tampering and degrading of the food supply, air, and water, and herding people into the medical institutions, ultimately creating a weakened race. 
This is why raw foods are attacked and blamed for disease, because those in power know that they prevent disease and strengthen the population. A strong people can overthrow a corrupt government. This is why throughout history, slaves have been fed rice and the kings dined on meat and fruits of all types.
If we look at their own documentation, we learn a great deal. For instance, in the 'Event 201' pandemic exercise hosted by John Hopkins University, and the Bill & Melinda Gates Foundation on Friday, October 18, 2019, we see a very similar plan to conduct exactly what is taking place now. https://www.centerforhealthsecurity.org/event201/scenario.html
All there needs to be is the illusion of a pandemic—that people are dying all around you. The media then confirms this and plants the seed and watches it take root and blossom. There need not be actual coronavirus cases even. They may label them as coronavirus cases, when in actuality, they have designed a fraudulent test that looks for fragments of genetic material shared between most viruses. So then, the case may be flu, or some other virus. This allows statistical manipulation. 
Also, if we read the Rockefellar Foundation's 'Scenarios for the Future of Technology and International Development' https://www.nommeraadio.ee/meedia/pdf/RRS/RockefellerFoundation.pdf, we can see that these scenarios have been prepared long in advance in order for them to capitalize on their agenda, which is a one world totalitarian government. This is spelled out on page 18 of the report— 
"At first, the notion of a more controlled world gained wide acceptance and approval. Citizens willingly gave up some of their sovereignty—and their privacy—to more paternalistic states in exchange for greater safety and stability. Citizens were more tolerant, and even eager, for top-down direction and oversight, and national leaders had more latitude to impose order in the ways they saw fit. In developed countries, this heightened oversight took many forms: biometric IDs for all citizens, for example, and tighter regulation of key industries whose stability was deemed vital to national interests. In many developed countries, enforced cooperation with a suite of new regulations and agreements slowly but steadily restored both order and, importantly, economic growth."
Jeff G
The Poisoned Needle
For the past 2000 years physicians have been looking in the wrong direction for the cure of disease. Their worse than useless practice of killing germs with poison drugs has never — and can never — solve the problem of disease.
During the Dark Ages, before the introduction of improved nutrition and sanitation, the world was intermittently visited with epidemics of smallpox. The cause was stubbornly ignored and the seeds for more disease were sown when vaccination was brought into popular use. This infusion of poison injected into the blood stream of the masses only served to intensify the disease in some cases, suppress the symptoms in others and create new and more serious diseases in still others. So, with the passing of years we have seen this misbegotten child of ignorance grow into a Frankenstein monster of immense proportions that moves relentlessly forward, grinding under foot the multitudes that throng its path.
Through the lethal power of this poisoned needle, the simple zymotic (contagious) diseases of the past have been devolved into the horrors of the present — our terrifying and expanding crop of "killer diseases". Many of these strange "mystery diseases" that baffle the entire medical world, are the sordid products of vaccine poisons that disturb the chemical balance of the body and interfere with normal functioning.
All these medically-made atrocities are far worse than smallpox or any of the other eruptive diseases that nature provides as a means of expelling the accumulated poison waste from the abused body. This interference with the balanced economy of nature has multiplied the problems beyond the power of science to control.
Our worst epidemics now are epidemics of vaccination in which more people are killed every year by "vaccinal diseases" than by the diseases that the vaccinations were supposed to combat.
Complete freedom from disease can scarcely be found except in remote islands or isolated communities that have not been invaded by medical mischief and commercialized products. Is our proud civilization to be degraded, corrupted, and destroyed by its own inventions designed for selfish profit and exploitation of the race?
Vaccination, instead of being the promised blessing to the world, has proved to be a curse of such sweeping devastation that it has caused more death and disease than war, pestilence, and plague combined. There is no scourge (with the possible exception of atomic radiation) that is more destructive to our nation's health than this monument of human deception — this slayer of the innocent —this crippler of body and brain — THE POISONED NEEDLE.
– Eleanor McBean –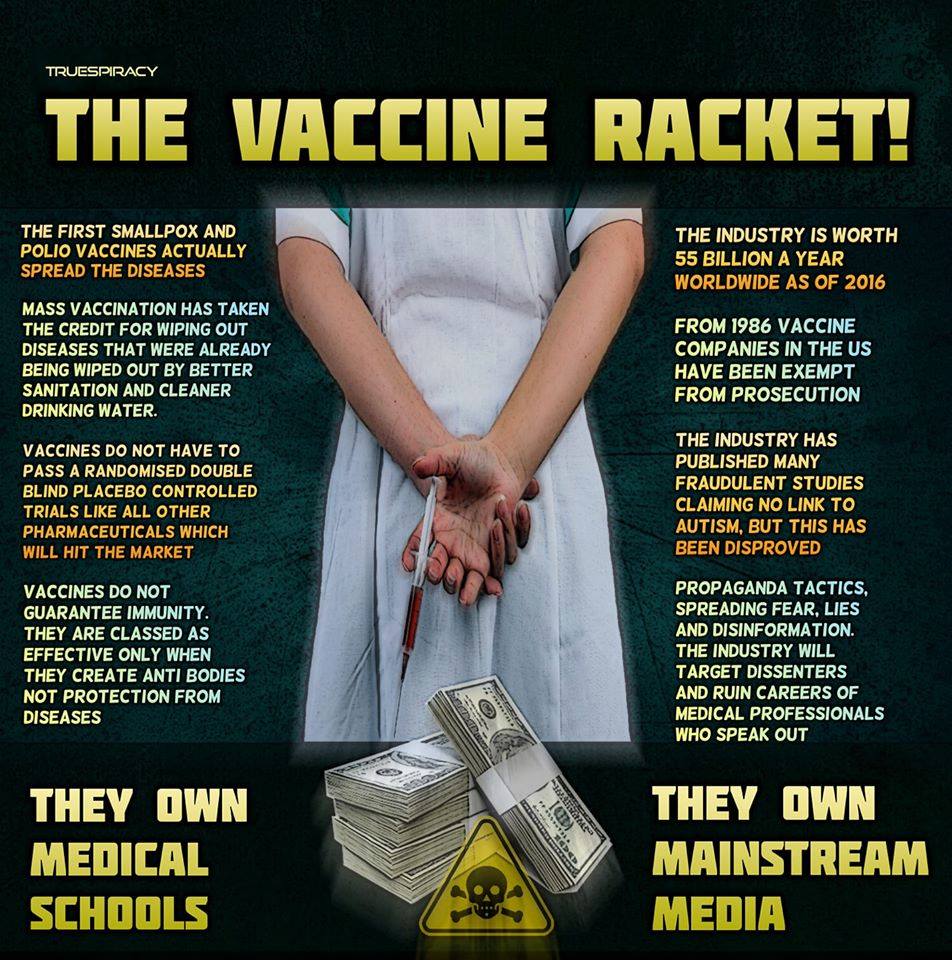 Vaccine Debate – Kennedy Jr. vs Dershowitz
– 25 November 2020 –
Heated vaccine debate between Robert Kennedy Jr. and Alan Dershowitz moderated by Patrick Bet-David.
About the Guests:
(Against) Robert F. Kennedy, Jr. serves as President of Waterkeeper Alliance, as well as Founder, Chairman of the Board, and Chief Legal Counsel for Children's Health Defense, and of counsel to Morgan & Morgan, a nationwide personal injury practice.
Mr. Kennedy is an esteemed author, with a long list of published books including the New York Times' bestseller, "Crimes Against Nature." Mr. Kennedy was named one of Time magazine's "Heroes for the Planet" for his success helping Riverkeeper lead the fight to restore the Hudson River. His reputation as a resolute defender of the environment and children's health stems from a litany of successful legal actions. He received recognition for his role in the landmark victory against Monsanto last year, as well as in the DuPont Case that inspired the movie "Dark Waters" (2019).
(For) Professor Alan M. Dershowitz is Brooklyn native who has been called "the nation's most peripatetic civil liberties lawyer" and one of its "most distinguished defenders of individual rights," "the best-known criminal lawyer in the world," "the top lawyer of last resort," "America's most public Jewish defender" and "Israel's single most visible defender – the Jewish state's lead attorney in the court of public opinion." He is the Felix Frankfurter Professor of Law at Harvard Law School. Dershowitz, a graduate of Brooklyn College and Yale Law School, joined the Harvard Law School faculty at age 25 after clerking for Judge David Bazelon and Justice Arthur Goldberg.
Dr. Shelton on Vaccines
Dr. Shelton writes: "The whole of the modern medical practice of vaccine, serum and antitoxin therapy is based upon the supposition that the body manufactures substances called anti-toxins, anti-bodies, antigens, etc., which are capable of meeting and destroying toxins that get into the body. The idea seems to be sound, although it is possible that the work of destroying such toxins is that of the detoxification carried on by the liver, and lymph glands, etc. Anti-toxins, antibodies, antigens, etc., have never been isolated. They have only been assumed, while the practice based upon their assumed existence has been both a failure and disaster. However, this may not be due to their non-existence. If they exist it is impossible to separate them from the proteins of the animal's blood (in making vaccines) and these proteins when injected directly into the blood of another animal (or human being) are very poisonous. Besides this, there is no evidence that the anti-toxins of one species can be made use of by another species. Where vaccines are employed, it constitutes the introduction of actual disease matter into the blood. That is, the supposed causitive germs or some product of the disease is introduced into the body. The consequences are often terrible. Real benefits are never observed.
"If the hypothesis that the body manufactures anti-toxins, anti-bodies, etc., is correct it still remains to be proven that the body ever manufactures these greatly in excess of the need for them. It cannot be shown that 'free' anti-toxin, anti-bodies, etc., are suspended in the blood serum and can therefore be transferred to another animal in sufficient quantities to be of use to the receiving animal. In keeping with a general law of life, it is very probable that the body does manufacture an excess of anti-bodies, but it cannot be shown that it retains these after the need for them has ceased. On the contrary, in keeping with another general law of life, it is very probable that the body begins to get rid of them the very instant the need for them ceases. If they exist they are chemical substances produced to meet an emergency and will be cast out as soon as the emergency ceases to exist."
The renowned Dr. Antoine Bechamp, one of the world's foremost scientists and bacteriologists, observed that the micro-organisms that are ordinarily called germs, evolve out of decaying cells they helped to build, and take part in the decomposing of the ever-changing life substance and help to form it into material usable again by nature. Thus, when germs are found within a sick body it is not that they entered from outside and caused the disease. It is because they developed from the decaying cells within the body and have an important part to play in helping to handle the waste and destruction brought about by serums, drugs and other poisons forced upon the body from without. Perhaps our modern bacteriologists have seen this activity of the "microzymas" and jumped to the conclusion that they are anti-bodies fighting disease and that they (the doctors) must inject more of them into the body by way of vaccines. But anyone with common sense and reasoning can see that this would only interfere and disrupt the well-organized efforts of nature. This is the reason why vaccination has taken such a heavy toll of lives and has produced such widespread disease.
"The best, indeed the only, method of promoting individual and public health is to teach people the laws of nature and thus teach them how to preserve their health. Immunization programs are futile and are based on the delusions that the law of cause and effect can be annulled. Vaccines and serums are employed as substitutes for right living; they are intended to supplant obedience to the laws of life. Such programs are slaps in the face of law and order. Belief in immunization is a form of delusional insanity." (PRINCIPLES OF NATURAL HEALING — p. 478 — Shelton)
VACCINATION LOWERS RESISTANCE AND INVITES DISEASE
Dr. J. W. Hodge had considerable experience with vaccination before he denounced it and wrote a book on his collected data. In his book THE VACCINATION SUPERSTITION (p. 41) he states:
"After a thorough investigation of the most authentic records and facts in harmony with the physician's daily observations and experiences, the conclusion is drawn that instead of protecting its subjects from contagion of smallpox, vaccination actually renders them more susceptible to it. Vaccination is the implantation of disease — that is its admitted purpose. Health is the ideal state to be sought, not disease . . . Every pathogenic disturbance in the infected organism wastes and lowers the vital powers, and thus diminishes its natural resisting capacity.
"This fact is well known and so universally conceded that it seems superfluous to cite authorities. Nevertheless, I shall mention one. The International Textbook of Surgery. Vol. 1. p. 263, is authority for the following statement:
"'Persons weakened by disease or worn out by excessive labor yield more readily to infection than healthy individuals.'
"If this is true, it explains why, in various epidemics, smallpox always attacks the vaccinated first, and why these diseases continue to infest the civilized world while its allied (unvaccinated) 'filth diseases ' have disappeared before the advance of civilization, through the good offices of sanitation, hygiene and improved nutrition."
SUMMARIZING THE CASE AGAINST VACCINATION
Dr. Hodge continues:
"After a careful consideration of the history of vaccination gleaned from an impartial and comprehensive study of vital statistics, and pertinent data from every reliable source and after an experience derived from having vaccinated 3,000 subjects, I am firmly convinced that vaccination cannot be shown to have any logical relation to the diminution of cases of smallpox, and —
1 — That the practice of vaccination has been the means of disseminating some of the most fatal and loathsome diseases, such as leprosy, syphilis, tetanus and tuberculosis;
2 — That vaccination is not only useless, but positively injurious,
of protecting its subjects from contagion of smallpox, it actually renders them more susceptible to it by depressing the vital power and diminishing natural resistance;
3 — That immunity from all diseases is to be realized through the attainment of health, not by the propagation of disease;
4 — That it is never necessary to set up one disease in a healthy organism to protect against another; that such procedure is an appalling violation of the basic principles of hygiene and sanitary science;
5 — That the performance of the vaccine operation in the very nature of the case, violates the cardinal precepts of modern aseptic surgery, the aim of which is to exclude the products of disease from the organism, and never to introduce them;
6 — That there is no evidence worthy of the name, on record, to prove that vaccination either prevents or mitigates smallpox;
7 — That many healthy children have died from the effects of vaccination;
8 — That millions of vaccinated people have died of confluent smallpox while having the plainest vaccine scars on their bodies;
9 — That smallpox epidemics invariably attack the vaccinated first;
10 — That smallpox follows closely upon flagrant violation of the laws of health, hygiene and sanitation;
11 — That the occurrence of all the great epidemics of smallpox have coincided with periods of sanitary neglect;
12 — That cow-pox and venereal-pox have much in common;
13 — That the analogy between the manifestations of vaccine and those of syphilis is so close that several of the most eminent pathologists of the world regard cow-pox as a modified form of syphilis;
14 — That the so called, 'spontaneous cow-pox' is a myth; that cow-pox is a disorder not natural to the cow; that it never occurs in bulls or steers, nor in young heifers that have never been milked; that it is a disease of milk cows, which has been communicated to them from sores on hands of milkers who were suffering from syphilis;
15 — That the serious killer diseases such as cancer, syphilis, heart trouble, polio, tuberculosis, etc., will never be eliminated as long as blood pollution through vaccination is continued;
16 — That the community that has sanitary surroundings, a pure water supply, wholesome food, good health and freedom from the blood-poisoning effects of vaccination, need have no fear of smallpox or any other diseases;
17 — That no man can be truly said to be susceptible to the contagion of smallpox or to that of any other disease so long as he is in a state of perfect health;
18 — That such a state resists and repels the assaults of all morbific influences and is therefore the best protective against disease;
19 — That vaccination has utterly failed to fulfill the promises made for it by Jenner and his followers and that he saddled a legacy of disease and death upon the race for which he was paid $150,000 by the British government;
20 — That compulsory vaccination ranks with human slavery and religious persecution, as one of the most flagrant outrages upon the rights of the human race."
21 — That Switzerland, England, Australia and other enlightened countries abolished compulsory vaccination after it was tested and proved to be disastrous; but laws sanctioning this crime still disgrace the statute books of "free" America.
22 — That reforms are not made by those who profit by them so the doctors or the government cannot be depended upon to abolish vaccination of their own volition; that the people, themselves, must rise up and make demands for freedom from this curse of greed, ignorance and destruction, for only then can we hope to see the light of a new day of health, progress and harmonious adjustment.
source – The Poisoned Needle author Eleanor McBean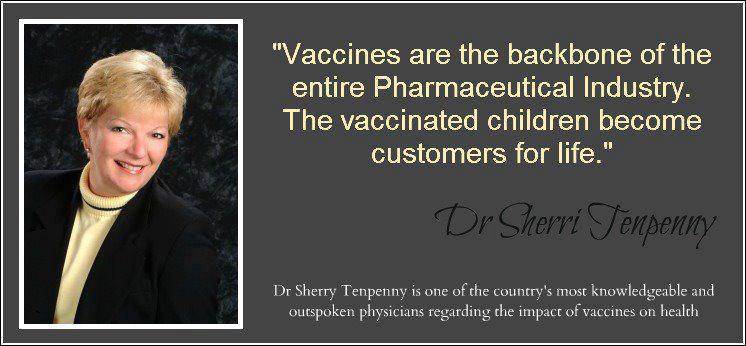 Vaccines
by Aajonus Vonderplanitz
I am reluctant to mention the harm that vaccines produce because most everyone is adamantly brainwashed that vaccines produce immunity. However, I would be negligent to ignore how vaccines actually affect health.
    Allopathic medicine is based on the "germ theory", that microbes and viruses, cause disease. Medical science bases the use of vaccines on the theory that the body forms antibodies to "fight" natural viruses. They believe that these antibodies live on after the virus is contained, thereby creating immunity.
    First we must consider the facts known to evaluate medicine's viral theory. Science has proved that virus are not alive, that they are predominantly protein but that they contain organic DNA. Science has proved that virus increase only in the presence of live cells, and that they cause certain cells, and/or parts of cells to dissolve. What is believed and taken as fact but not proved, is that viruses are nondiscriminatingly destructive "things" that self-replicate. That is like saying that laundry soap, because it is found in homes inhabited by humans, self-replicates. Those assumption and conclusion are shallow and ludicrous. Medical science operates from fear, and it attacks the body. All medical procedures for treating disease are written by pharmaceutical-related individuals and groups. That is a severe conflict of interest. Self-produced health or medication-dependent profit, which do you think that they want?
    A rational and logical conclusion would be that virus are solvents (cleansers) manufactured by individual cells to dissolve degenerative tissue (disease) caused by accumulated waste and industrial toxins, including medicines. Virus contain DNA because cells have used substances within themselves to synthesize virus; DNA is a part of that. When the cleansing and healing processes cease, cells stop producing large amounts of virus.
    Normally, healthier bodies symbiotically utilize bacteria and parasites to cleanse themselves of cellular degenerative tissue and organic waste. They are the bodies preferred janitors. Bacteria and parasites consume the degenerative tissue and organic waste and reduce it to a tiny fraction of the original mass eaten. They can consume 100 times their weight and reduce it to 1-percent excretion. When eating a healthy raw diet, our bodies easily secrete and/or excrete the 1-percent excretions from bacteria and parasites.
    However, when bodies become too toxic with industrial toxins, including medicines, the bacteria and parasites are poisoned to death. Under such toxic conditions, the only cleansing method that the body can utilize is virus. So, cells synthesize viruses. I reiterate, viruses are solvents that dissolve degenerative tissue and organic waste. They are beneficial in preventing disease; they do not cause disease. The symptoms that accompany viral, bacterial or parasitical detoxifications are a necessary process but can be mitigated with the consumption of plenty of raw eggs and raw dairy fats.
The key is: We should trust, nurture and understand the body and Nature, not fear them. Inoculating people to prevent viral infections is ridiculous and dangerous. After many years of experimentation, Louis Pasteur realized that the idea of vaccination was doomed. He confessed on his deathbed to his assistants that a poor (toxic) environment within the body creates disease. Microbes do not cause disease.
 Regarding the immediate trauma that vaccines cause in many people, the eminent scientist and physician, Dr. William F. Koch, M.D., Ph.D. said: The injection of any serum, vaccine or even penicillin has shown a very marked increase in the incidence of polio – at least 400%. Statistics are so conclusive no one can deny it.
The long term effects of vaccines are just as harmful. Vaccines are made of disease, mercury, aluminum, formaldehyde and other poisonous chemicals. Pharmaceutical houses manufacture diseases in animal tissue. The diseases are sterilized to make vaccines. Sterilization alters the RNA, DNA, structure and actions of diseases and viruses. When a sterilized disease or virus enters the body, the body tries to analyze it and create antibodies to regulate the disease or virus. The body cannot find the logical reason for the unnatural disease or virus. Nor can it find the key to the time that the bacteria or virus will be active. Therefore the body creates mutant antibodies that do not go dormant for up to decades.These mutant antibodies remain active long after the disease or virus becomes inactive. The mutant antibodies eat sub-particles from the inside of amino acids (proteins) in the blood.1 That renders proteins unstable. The amount of proteins damaged and lost to mutant antibodies depends on the number of vaccines. Because amino acids are the primary building blocks of cells, the consequence is cellular malnutrition. In all animals, the malnutrition causes gradual genetic mutations, resulting in weaknesses, diseases, malfunctions and deformities.
source: http://www.whale.to/a/vonderplanitz3.html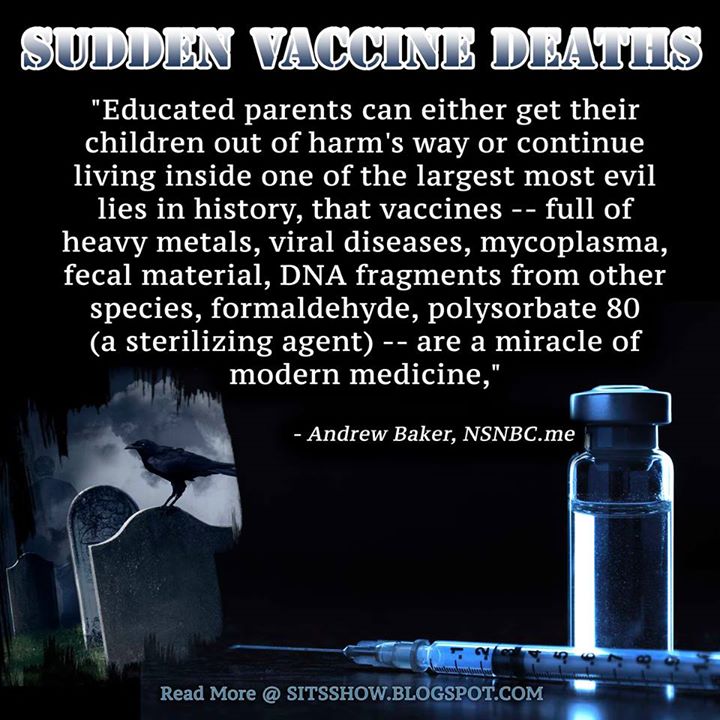 Unscrupulous Special Interests and Their Vaccine Crusade
F. William Engdahl
Polio is something I have more than a passing acquaintance with. Two days before my fifth birthday a medical doctor in Minneapolis diagnosed me with polio. I only learned decades later that it was not polio, poliomyelitis or infantile paralysis as it was also called. It was shortly after World War II. Then a few years later we were presented Jonas Salk and the polio vaccine, and the world believed that because of that vaccine and the Sabin variant, polio had been stamped out. The reality was that polio was not and is not a "virus," nor did the vaccines of Salk or Sabin eradicate.
The symptoms that were given the name "polio" had dramatically declined several years before the first vaccine and Salk claimed the credit for his vaccine which was released in 1955. The symptoms that got the name polio came from a team at the Rockefeller University in 1910. Those symptoms were listed as fever, severe headache, stiff neck and back, deep muscle pain. Pretty vague.
Many, many things can cause fever and such symptoms in a small child, for example being raped by someone they thought loved them or experiencing other trauma. It has been suggested that there was a major wave of in-family child rapes as soldiers returned from the traumas of their own war experiences in World War II. It was convenient for some to label the upsurge in such symptoms as polio and create a national media scare that was to most Americans in the early 1950's more terrifying than Joe Stalin and communism. The drug industry got a huge boost and today, even newborns are jabbed multiple times in the first weeks of their fragile lives with concoctions that have been documented not to prevent viral infection but to make weak, sick and in some tragic cases autistic or even dead children.
The Rockefeller University in New York had begun literally playing around with children with the symptoms later formalized as polio as far back as 1910. Simon Flexner, first director of the predecessor to the Rockefeller University, the Rockefeller Institute for Medical Research, had produced the symptoms later named polio. He did that in a rhesus monkey which then transmitted the disease from one animal to another. Flexner was a close friend and advisor of John D. Rockefeller, Jr., son of the founder of the Standard Oil trust.
Albert Sabin, creator of the Sabin polio vaccine had come out of the Rockefeller University. Human experiments with untested versions of the polio vaccines were done on already crippled children in care homes, on children in homes for the mentally insane and on that Rockefeller family plantation for human experiments, Puerto Rico.
Since that time the Rockefellers, some of the world's most ardent financial backers of eugenics, have been at the center of the developments around what was named polio and its "vaccine."
Eugenics was a fraudulent social theory that a "better society" could be created by eliminating "undesirable" human blood lines and promoting the desirable types like those of Rockefellers or DuPonts or their likes. To the present day eugenics is the guiding ideology of the very rich, loveless American oligarchs including Bill Gates and David Rockefeller. To this day the major financial backers of the criminal activities of the UN WHO (World Health Organization) and their fraudulent swine flu pandemic scares are the Rockefeller Foundation and the Bill and Melinda Gates Foundation.
GAVI
Several years ago, the Bill and Melinda Gates Foundation and the Rockefeller Foundation, along with the World Bank, UNICEF, the WHO and a group of pharmaceutical companies, united all in something called GAVI and set out to bring massive polio vaccination first to India. GAVI: The Vaccine Alliance was founded by the Gates Foundation in 2000 as a "public-private partnership" to unite in assaulting poorer developing countries with the Big Pharma vaccine industry they would otherwise bespared.
In India Gates, Rockefellers and WHO with their Big Pharma partners convinced the Indian government to spend some $8 billion of their scarce funds, along with a tiny amount of "seed" money from GAVI partners, to vaccinate Indian children.
The result?
An article in the Indian Journal of Medical Ethics in 2012 concluded,
"In 2011, there were an extra 47,500 new cases of NPAFP. Clinically indistinguishable from polio paralysis but twice as deadly, the incidence of NPAFP was directly proportional to doses of oral polio received. Though this data was collected within the polio surveillance system, it was not investigated."
Instead, Gates and Company proclaimed India "polio" free.
They ignored the fact their "polio" vaccines were killing and paralyzing 48,000 Indian children because the WHO definition of polio allowed them the casuistry. NPAFP stands for Non-Polio Acute Flaccid Paralysis. The medical-industrial complex are masters at coming up with names.
By calling it non-polio, they defined polio as eradicated in India. But their vaccines are killing and paralyzing tens of thousands of children. So by the WHO semantics the GAVI vaccines did not cause a single case of "polio." It did cause 48,000 cases of something far deadlier and more damaging, Acute Flaccid Paralysis, a condition the WHO admits is clinically indistinguishable from polio and which occurred in direct proportion to the doses of polio vaccine received.
A similar phenomenon took place at the same time in neighboring Pakistan. In 2011 the Paktstan Tribune reported,
"A government inquiry has found that polio vaccines for infants funded by the Global Alliance for Vaccination and Immunisation are causing deaths and disabilities in regional countries including Pakistan. Geneva-based officials of GAVI, Jeffrey Rowland and Dan Thomas, were contacted by e-mail but they did not respond. "
GAVI spent a mere 7.8% of the total cost of the mass vaccination in Pakistan, of Rs26 billion. The Tribune continued, "Pakistan will be spending Rs24.2 billion from its own resources on the purchase of new and under-used vaccines at much higher cost as compared to their equivalent vaccines." The Gates-Rockefeller-WHO polio vaccination program in Pakistan killed an estimated 10,000 and crippled tens of thousands more.
Now the focus has moved to another US warzone, Syria.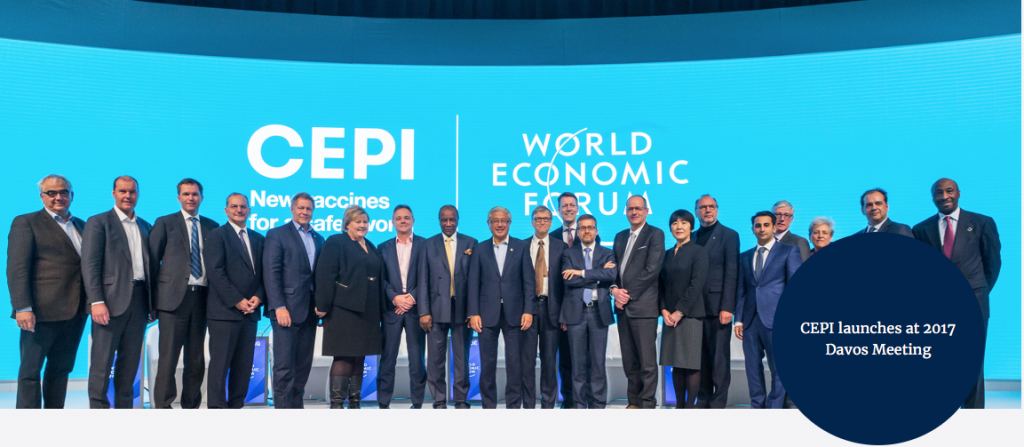 CEPI – A global coalition for a global problem
New vaccines for a safer world
Epidemic diseases affect us all. They do not respect borders. CEPI is a innovative global partnership between public, private, philanthropic, and civil society organisations. We're working together to accelerate the development of vaccines against emerging infectious diseases and enable equitable access to these vaccines for people during outbreaks.
CEPI was founded in Davos by the governments of Norway and India, the Bill & Melinda Gates Foundation, the Wellcome Trust, and the World Economic Forum.
To date, CEPI has secured financial support from the Bill & Melinda Gates Foundation,  Wellcome Trust, the European Commission, and the governments of Australia, Belgium, Canada, Denmark, Ethiopia, Germany, Japan, Mexico, Norway and the United Kingdom.
Additional investment from sovereign governments, the private sector and philanthropic foundations has also been provided to support our COVID-19 vaccine programmes.
The Coalition for Epidemic Preparedness Innovations' (CEPI's) mission is to stimulate and accelerate the development of vaccines against emerging infectious diseases and enable access to these vaccines for people during outbreaks.
https://cepi.net/about/whoweare/
Video 1
Del Bigtree The Coronavirus Vaccine Agenda – London Real
EXPOSING THE DANGEROUS TRUTH OF BIG-PHARMA'S MASTER PLAN – Del Bigtree
Del Bigtree is one of the preeminent voices of the Vaccine Risk Awareness Movement. His career as an Emmy winning producer of the CBS talk show The Doctors changed abruptly when he produced the documentary VAXXED, which is credited with igniting a revolution against Pharmaceutical Tyranny around the world. Now Del's internet talk show, The HighWire, is the fastest-growing program in the Natural Health arena with over 40 million views, and his non-profit, ICANdecide.org, is leading worldwide investigations into drug and vaccine fraud that have already resulted in two winning lawsuits against US Government agencies Health and Human Services and National Institute of Health.
Del is probably best known for his powerful speeches that weave shocking truth, searing wit and dynamic passion into an experience that is often described as electrifying.
Chapters 0:29 | Brian Rose Introduces the Business Accelerator program 3:43 | Brian Rose introduces Del Bigtree 6:18 | Del Bigtree talks about being censored and his documentary Vaxxed 9:30 | Del Bigtree talks about Donald Trump going after Twitter censorship 11:09 | Del discusses having Dolores Cahill on his show 14:00 | Brian Rose talks about being censored from YouTube 18:42 | Del Bigtree talks about mandating COVID-19 vaccines 27:40 | They talk about vaccine injuries and chronic health 31:31 | Brian Rose talks interviewing about Judy Mikovits and Robert F. Kennedy Jr. 34:20 | Del Bigtree discusses the link between autism and the MMR vaccination 46:41 | Del Bigtree talks about double blind placebo tests 1:00:00 | Brian asks Del what he thinks about the COVID-19 pandemic 1:08:00 | Del Bigtree discusses the results of initial #COVID_19 vaccine tests 1:09:23 | Del discusses Trump and his response to the pandemic 1:14:00 | Del Bigtree discusses Sweden's herd immunity 1:15:00 | Brian Rose asks Del about the next 6 months 1:21:04 | Brian talks about the upcoming economic ramifications 1:29:04 | Del talks about his meeting with Dr. Fauci and Trump regarding the CDC's data on non-vaccinated people vs vaccinated. 1:32:00 | Del discusses the use of Remdesivir 1:34:00 | Brian Rose asks Del about Bill Gates 1:39:00 | Del asks the viewers to keep learning and sharing information about vaccines 1:42:50 | Brian Rose sums up
Video 2 
Meet Bill Gates
There can be no doubt that Bill Gates has worn many hats on his remarkable journey from his early life as the privileged son of a Seattle-area power couple to his current status as one of the richest and most influential people on the planet. But, as we have seen in our exploration of Gates' rise as unelected global health czar and population control advocate, the question of who Bill Gates really is is no mere philosophical pursuit. Today we will attempt to answer that question as we examine the motives, the ideology, and the connections of this man who has been so instrumental in shaping the post-coronavirus world.
Video 3 
How Bill Gates Monopolized Global Health
Who is Bill Gates? A software developer? A businessman? A philanthropist? A global health expert? This question, once merely academic, is becoming a very real question for those who are beginning to realize that Gates' unimaginable wealth has been used to gain control over every corner of the fields of public health, medical research and vaccine development. And now that we are presented with the very problem that Gates has been talking about for years, we will soon find that this software developer with no medical training is going to leverage that wealth into control over the fates of billions of people.
Video 4 
Bill Gates' Plan to Vaccinate the World
In January of 2010, Bill and Melinda Gates announced a $10 billion pledge to usher in a decade of vaccines. But far from an unalloyed good, the truth is that this attempt to reorient the global health economy was part of a much bigger agenda. An agenda that would ultimately lead to greater profits for big pharma companies, greater control for the Gates Foundation over the field of global health, and greater power for Bill Gates to shape the course of the future for billions of people around the planet.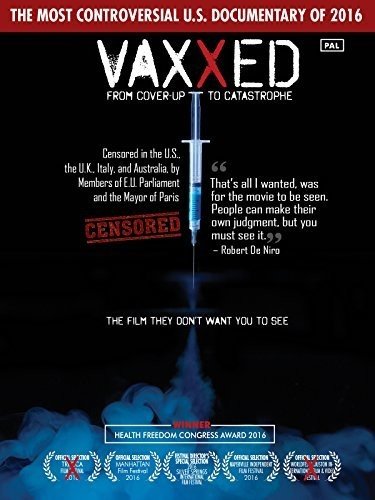 Vaccines and Sterilisation
– 6 January 2021 –
The Poisoned Needle
The Book – click on image for link to pdf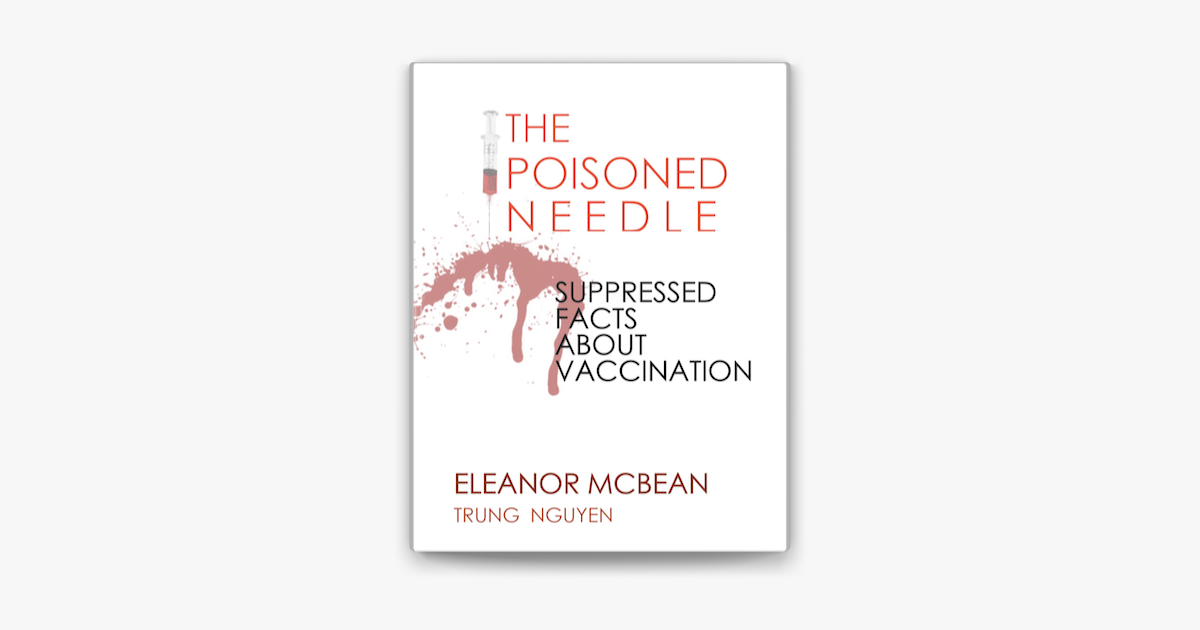 The Vaccination Superstition
The Book – click on image for link to pdf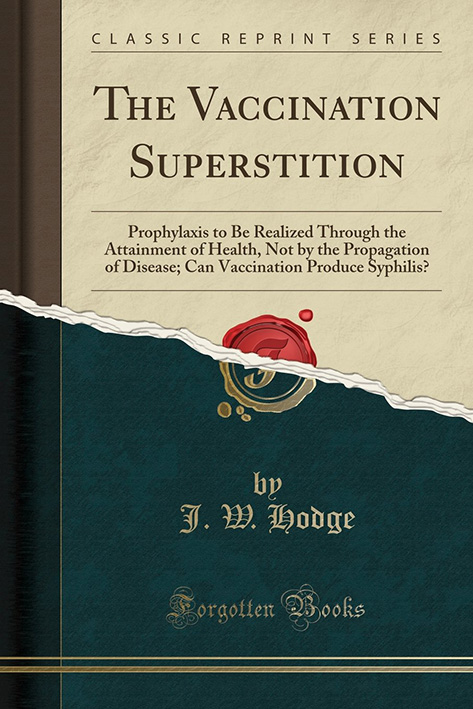 Dissolving Illusions – Suzanne Humphries
Not too long ago, lethal infections were feared in the Western world. Since that time, many countries have undergone a transformation from disease cesspools to much safer, healthier habitats. Starting in the mid-1800s, there was a steady drop in deaths from all infectious diseases, decreasing to relatively minor levels by the early 1900s. The history of that transformation involves famine, poverty, filth, lost cures, eugenicist doctrine, individual freedoms versus state might, protests and arrests over vaccine refusal, and much more.Today, we are told that medical interventions increased our lifespan and single-handedly prevented masses of deaths. But is this really true?Dissolving Illusions details facts and figures from long-overlooked medical journals, books, newspapers, and other sources. Using myth-shattering graphs, this book shows that vaccines, antibiotics, and other medical interventions are not responsible for the increase in lifespan and the decline in mortality from infectious diseases. If the medical profession could systematically misinterpret and ignore key historical information, the question must be asked, "What else is ignored and misinterpreted today?"Perhaps the best reason to know our history is so that the worst parts are never repeated.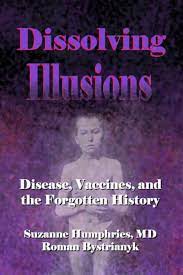 click on image for book
– Video Interview –
Dissolving Illusions – Suzanne Humphries
THE INFORMATION YOU WISH YOU HAD KNOWN BEFORE