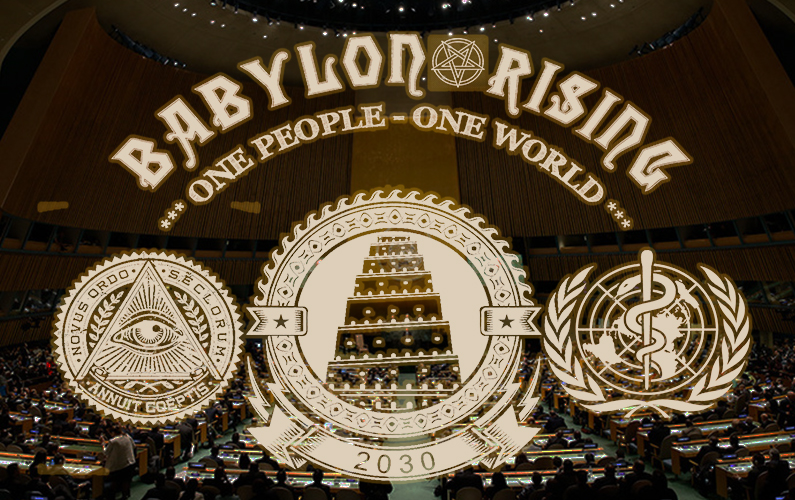 Babylon Rising – Notable Updates
Disclaimer:
The author of Unleavenedbread.co.za is not a qualified doctor nor a medical professional. I am also neither an activist nor a protestor of any sort and will neither organise, promote or participate in any protest action (my reason for this will be explained in the final post of this series).
My interest is purely that of Biblical Prophetic interpretation. I have no earthly allegiance to any governmental powers or opposing parties/organisations.
My Kingdom affiliation is not of this world.
The information contained on this site is for your consideration and your further research. The information is intended to broaden the horizons of the reader and to expose him/her to information that is not talked about or even considered in the mainstream media. Viewpoints are not forced upon any reader. You, the reader, are trusted to discern for yourself while browsing the pages of this website, what is true and untrue.
The author of Unleavenedbread.co.za does not necessarily agree with, support, or endorse everything that is posted, or linked to on any of our pages. Viewpoints expressed in some articles posted on this site do not necessarily represent the viewpoint of the author of this website.
And have no fellowship with the unfruitful works of darkness, but rather reprove* them.
Ephesians 5:11 (KJV)
*(expose, bring to the light)
– Déjà Vu –
 Is COVID 19 the first time that the World Health Organisation (WHO) has cried wolf and declared a global pandemic?
Let us revisit the 2009 'Swine flu' and the HIV/AIDS pandemics of the past and uncover the COVID shadow or forerunner pandemics.
♦ ♦ ♦ ♦ ♦ ♦ ♦ ♦ ♦ ♦ ♦ ♦ ♦ ♦
Dave Cullen, in his latest video report (Connecting the dots – 14 October – video included below) recalls how there was a major backlash to the 2009 declaration of a global 'swine flu' pandemic by the WHO. 
The BMJ website contains an article which states:
'Council of Europe condemns "unjustified scare" over swine flu
The Council of Europe heavily criticised the World Health Organization, national governments, and EU agencies for their handling of the swine flu pandemic.
The parliamentary assembly of the council—the international organisation that protects human rights and the rule of law in Europe—published a draft of a report that reviewed how the H1N1 pandemic was handled.
National governments, WHO, and EU agencies had all been guilty of actions that led to a "waste of large sums of public money, and unjustified scares and fears about the health risks faced by the European public," says the report.
The conclusion came in the parliamentary assembly's social, health and family affairs committee report published on 4 June.
The report was prepared by Paul Flynn, socialist member of the assembly and Labour MP for Newport West and approved by the committee ahead of a plenary debate at the end of this month. It says there was overwhelming evidence that the seriousness of the pandemic was vastly over-rated by WHO.'
https://www.bmj.com/content/340/bmj.c3033
I strongly recommend that you familiarise yourself with the late Paul Flynn's report (included pdf below) and the resistance to the WHO's declaration of the 2009 global pandemic.
Let me not comment any further. I attach for your perusal the late Paul Flynn's report and some additional literature, as well as a link to a BBC Assignment audio report from 2010.
As the wise Solomon once said 'there is nothing new under the sun' – Ecclesiastes 1:9
Social, Health and Family Affairs Committee
= The handling of the H1N1 pandemic: more transparency needed =
Memorandum
Rapporteur: Mr Paul FLYNN, United Kingdom, Socialist
23 March 2010
'a sampling from the report – sound familiar anyone ??:
'13. When looking at the still very moderate expression of the pandemic almost one year after its outbreak, the way in which scientific and empirical evidence has been interpreted can be seriously questioned. The main question is whether WHO overstated the threat posed by the virus, ignoring the practical evidence that the pandemic seemed to be of "moderate severity" from its very start. With regard to such a possible overstatement, the rapporteur would notably like to point out that, in many countries, no clear distinction had been made between patients dying with swine flu (i.e. showing symptoms of swine flu whilst having died of other pathologies) and patients dying of swine flu (i.e. swine flu being the main lethal cause).'

= The Pandemic That Never Was =

Swine Flu: Panic or Pandemic?
Assignment – BBC WORLD SERVICE ONLINE
Sun 23 May 2010 11:05 Local time

In June 2009 the head of the World Health Organisation (WHO) declared swine flu a global pandemic.
Governments around the world sprang into action and ordered millions of doses of vaccine. But in the event thousands – not millions died – and swine flu proved to be less dangerous than ordinary seasonal flu. So why did the WHO announce a pandemic and were they right to do so?
For Assignment Imogen Foulkes visits two countries in Europe, one of which ordered 90 million doses of vaccine and used just 10% of them – the other of which ordered none.
Swine Flu: Panic or Pandemic?
BBC – Imogen Foulkes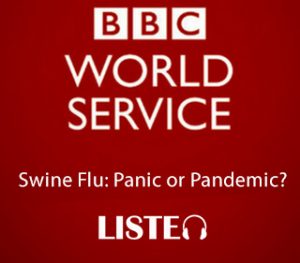 THE JAB: Featuring GlaxoSmithKline
Robert Kennedy – Children's Health Defense 27th August 2020
It's deja-vu all over again with the W.H.O. declaring "pandemics" that result in gold rushes for pharmaceutical companies who swoop in with vaccines to save the day. But are they actually saving anyone? Or do serious adverse events such as the very real narcolepsy epidemic that we saw in the swine flu "pandemic" of 2009—which many researchers tie to GSK's Pandemrix—counter any perceived benefits of these rushed vaccines? The Jab breaks down what happened in 2009 and why it's critical that we understand this today.
Covid-19 / SARS-CoV-2 and the similarities to the 1980s panic over HIV-Aids
Dr Kevin Corbett Interview 4th October 2020
Retired nurse and health scientist Dr Kevin Corbett joins me to discuss Covid-19 / SARS-CoV-2 and the similarities to the 1980s panic over HIV-Aids. These similarities span the scientific investigation, clinical testing, elements of the care, and the governmental approaches employed.
Kevin explains how contagion fears have affected the medical profession, major elements of the scientific community and our political leadership alike.
He explains the rationale behind his view that the current crisis represents the corruption of medical actors and a Nazification of the NHS. He concludes that this is part of a wider move to expand centralised command and control measures across society.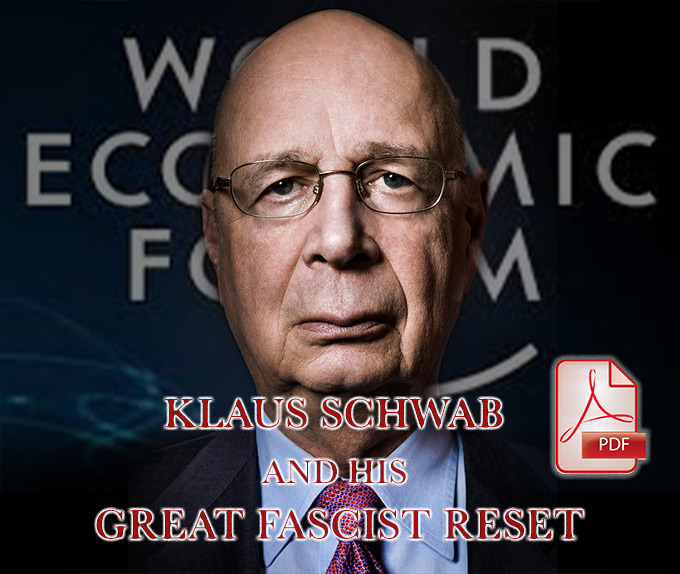 Schwab and Malleret admit that Covid-19 is "one of the least deadly pandemics the world has experienced over the last 2000 years", adding that "the consequences of COVID-19 in terms of health and mortality will be mild compared to previous pandemics". 
They add: "It does not constitute an existential threat or a shock that will leave its imprint on the world's population for decades". 
(Schwab, Malleret, Covid-19: The Great Reset).
Yet, incredibly, this "mild" illness is simultaneously presented as the excuse for unprecedented social change under the banner of "The Great Reset"!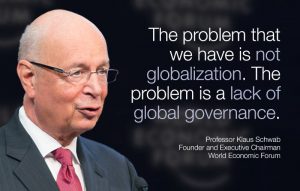 The Great Reset – A glimpse into 2023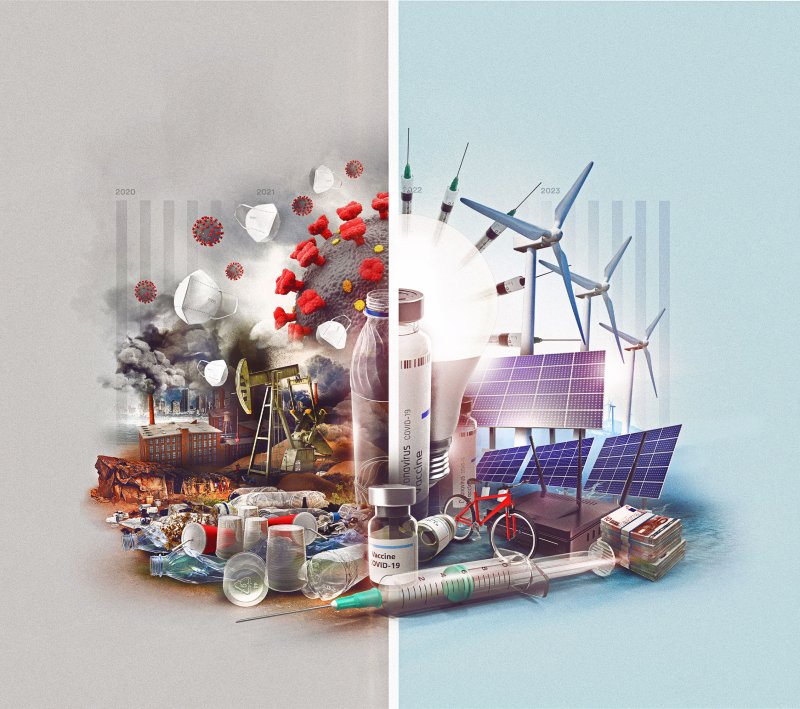 Can the World Health Organisation (WHO) be trusted?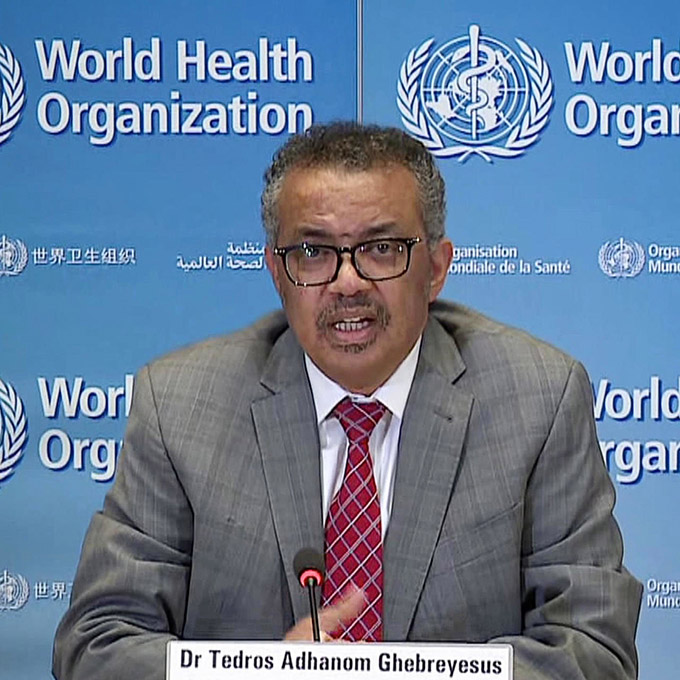 WHO and Ghebreyesus
Some do not hesitate to characterize WHO as "the most corrupt organization in the world" WHO's director, the Eritrean Adhanom Ghebreyesus, seems closely linked to Bill Gates, himself very concerned to "get seven billion human beings vaccinated" with this chip that he designed not with health as the goal, but population control for extremely dubious political purposes – it is difficult to fail to mention this without betraying our humanity.
Indeed, Bill Gates is notorious for having paid huge sums of money to WHO, which many claim helped appoint in 2017 – with the support of China – someone with a genocidal past in his own country, who was a member of the political bureau of the Tigray People's Liberation Front (TPFL), an organization listed on the Department of US Homeland Security's list of terrorist organizations.
In 2017, an Amhara ethnic rights organization, the Amhara Professional Union (APU), accused Tedros Adhanom Ghebreyesus of carrying out a full-fledged genocidal policy through forced vaccination, chemical sterilization and abortion, when holding the post of Ethiopian Minister of Health between 2005 and 2012.
The population of this ethnic group fell by 2.5 million between the 1997 and 2007 censuses. At the same time, the other major Eritrean ethnic groups reportedly saw their population grow by 2.6 per cent annually.
The TPFL was also accused of plundering Ethiopia and using the 3.5 billion dollars in aid received by Ethiopia (amounting to 60% of the national budget) for political repression of opponents (belonging to two majority ethnic groups). This extraordinary WHO director, who seems to be devoted to the goals of Bill Gates and his Chinese friends, served as Ethiopia's Minister of Health from 2005 to 2012, while at the same time serving as director – from 2009 to 2011 – of of an AIDS, tuberculosis and malaria programme funded by the Bill & Melinda Gates Foundation.
Good reason perhaps to question the surprising position of WHO regarding its oft- repeated recommendation not to use anti-inflammatory drugs against Covid-19 and the oft-repeated statement of this world body that "there is no treatment to date" but that a vaccine is being studied.
The WHO Director, who as minister of health was caught red-handed covering up three cholera outbreaks, will do what he is told. This is the driving force behind this policy. WHO was, notably, established by the Rockefellers. WHO tells you the procedure to follow and you follow it. You follow the protocol.
http://ageoftruth.tv/wp-content/uploads/2020/08/INVESTIGATIVE-REPORT-ON-THE-COVID-19-PANDEMIC-AND-ITS-RELATIONSHIP-TO-SARS-COV-2-AND-OTHER-FACTORS.pdf
Page vii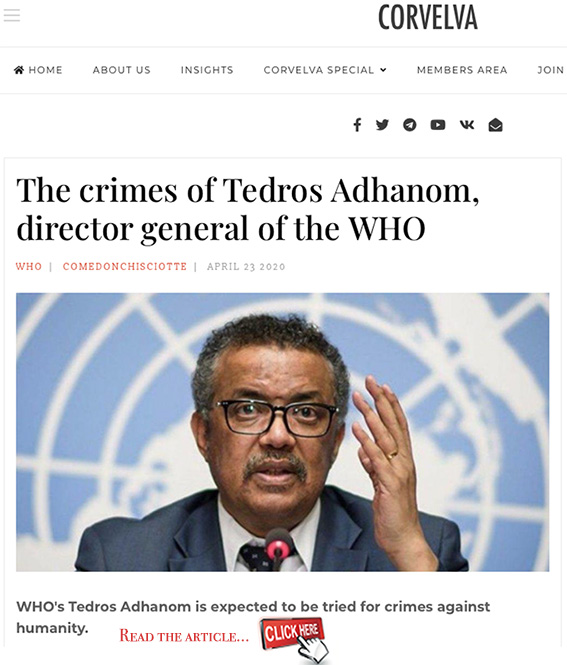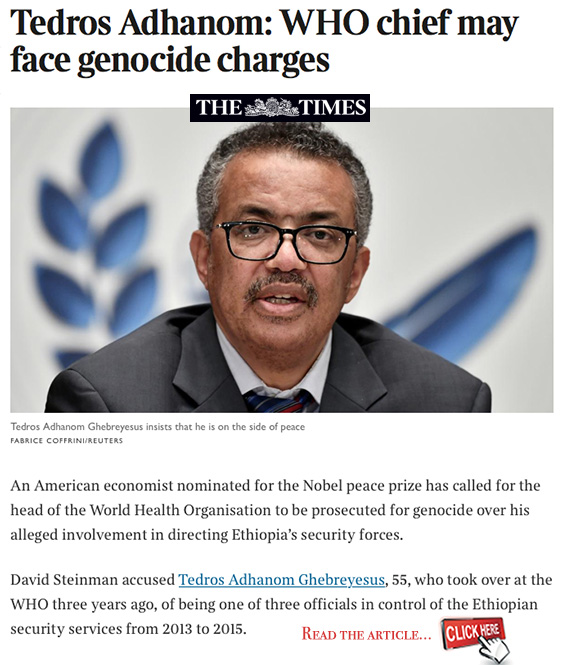 BBC Funding and Biased Reporting
Why does it appear that the mainstream media are only supporting one side of the COVID narrative and labelling anyone who challenges this narrative as 'conspiracy theorists'. Well, for one example, one only needs to look into the BBC funding to understand why.
….click on the images below to be taken to the page info….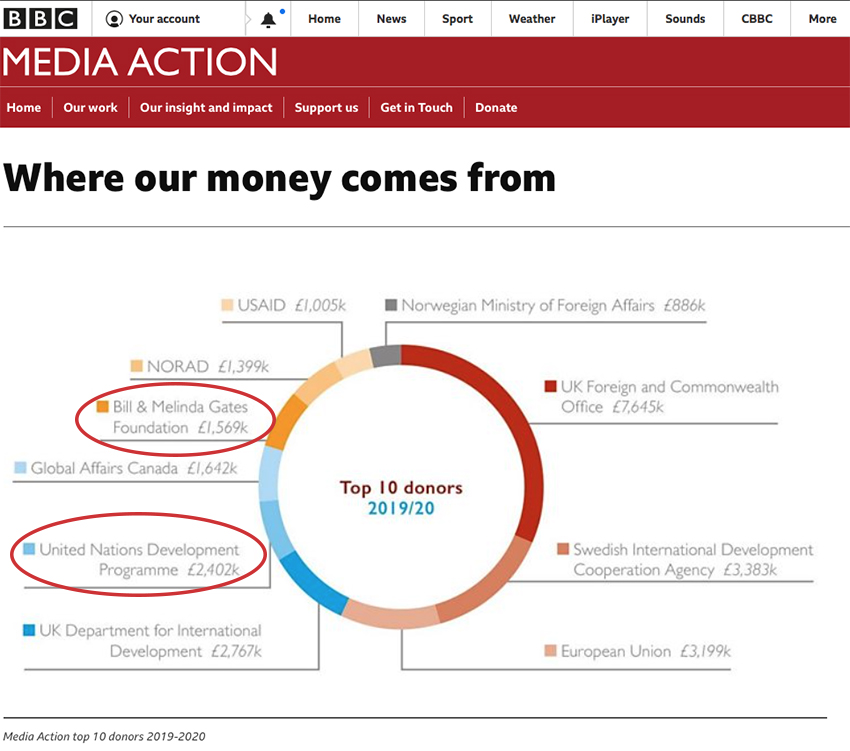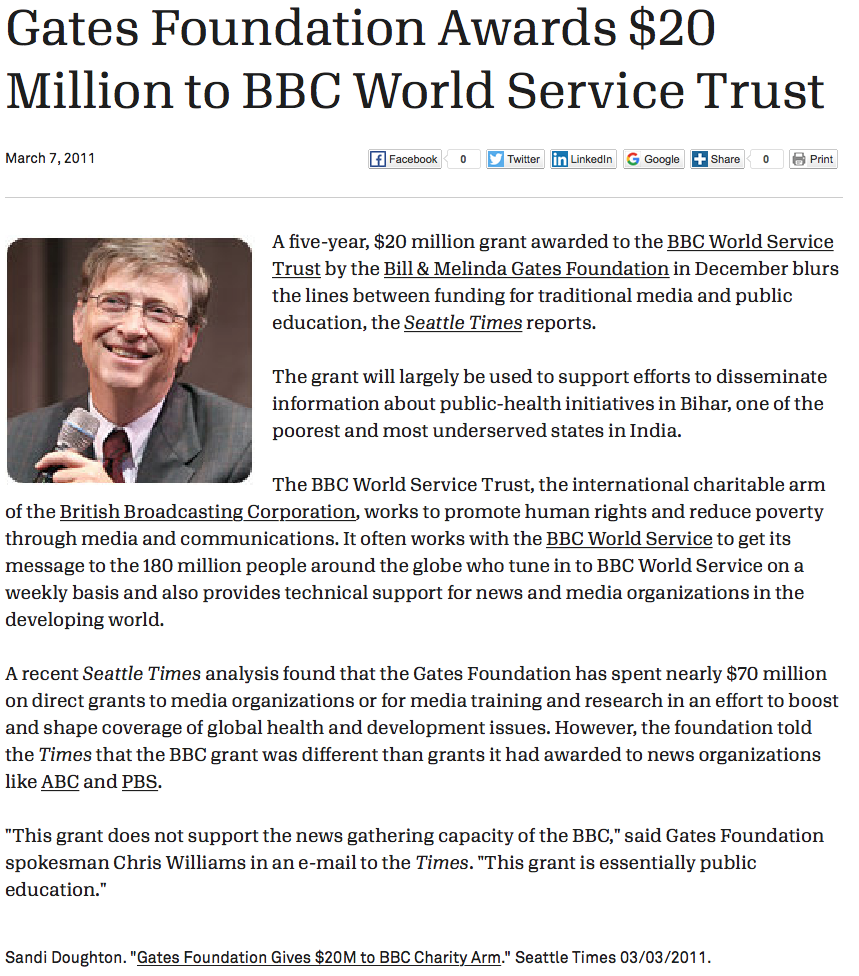 Previous Posts In This 'COVID 19' Series
- Part 1 - The Fear Pandemic
What exactly is this global enemy called COVID 19? Why is it only affecting mostly the elderly and the most vulnerable of society? Is this virus something to fear as has become so evident in society as everyone diligently obeys the lockdown regulations. Will we ever return to normal life again.
Allow me to share my findings from my research.d'.
- Part 2 - What Really Makes One Sick
Are human beings really under regular attack by external invading viruses? Is the Divine design of the human body so feeble? Is there an alternative theory for the cause of illness that may be more logical and plausible?
- Part 3 - The Vaccine Agenda
Through the lethal power of this poisoned needle, the simple zymotic (contagious) diseases of the past have been devolved into the horrors of the present — our terrifying and expanding crop of 'killer diseases'. Many of these strange 'mystery diseases' that baffle the entire medical world, are the sordid products of vaccine poisons that disturb the chemical balance of the body and interfere with normal functioning.
Eleanor McBean
- Part 4 - Order Out of Chaos
What is the link between the United Nations Sustainable Development plan and this COVID 19 Pandemic?
Is there an age-old 'Hidden Hand' with another 'Order Out of Chaos' master plan pushing for a dictatorial global rulership?
- Part 5 - The Network of Global Control
COVID 19 has created the much needed opportunity to fast track the world towards global governance. This global governance infrastructure is already in place.
- Part 6a - The Final World Dictatorship
 We are living in a world today that is fast being transformed before our very eyes. The world that we have grown accustomed to is about to radically change. COVID 19 has presented the opportunity for change and those individuals who have desired radical change for decades now will not let this manufactured crisis go to waste. We are being herded as human cattle into a 'new normal' that we are not going to like.
Our world of capitalism, democracy, sovereign nation-states and individual freedom is about to be changed. We are moving into a world of 'technocratic governance'. This is a world where the 'god' is science and technology.
- Part 6b - Transhumanism and A.I
Utilising science and technological discoveries for the benefit of man is nothing new. For decades now mankind has benefitted from technological advances in the medical fields with things like hearing aids, artificial limbs, heart pacemakers and the list goes on. The problem though is that science and technology are advancing so rapidly that mankind is about to cross the line into an age of self-destruction. Most people probably believe that the advances in science as it relates to transhumanism will benefit all of mankind.
Are we moving towards a perfect 'science-fiction' world where in excess of seven billion people on planet earth will reap the rewards of this technological progress? I do not believe so. I believe that this progress will be reserved for the benefit of an elite minority – those who are wealthy enough to secure the benefit (if you are someone who believes this direction of progress to be beneficial that is).
- Part 7 - The biblical Perspective
Coming soon. The Prophetic warning and Promises from the Almighty.
Read more…
- Part 8 - Notable updates
Due to the fast-moving development of this subject matter, I thought that it would be of benefit to include some updated material.